Hysun 7KW 9KW 11KW EV Charging stations J1772 plug Commercial using with OCPP
● Plug and Play, Easy to use
● Fast Charging
● Easily detachable from wall mount
● RFID Card included to prevent unauthorized use
● 3 Years Warranty
📢 Contact with us to get OEM Price and Distributor Price.
Introducing our cutting-edge Smart WALLBOX EV Charger, designed with the latest technology to provide efficient and reliable charging solutions for electric vehicles. With a focus on intelligence and safety, our EV charger offers a host of features that make it stand out from the competition.

Intelligent Features:

Home Using: Equipped with Bluetooth, Wi-Fi, and Ethernet capabilities, our Smart WALLBOX EV Charger allows seamless connectivity for remote monitoring and control. Stay connected and in control of your charging sessions with the convenience of our user-friendly mobile app.

Public Using: Our Smart WALLBOX EV Charger is designed to be future-proof, supporting the OCPP 1.6 protocol. This industry-standard protocol enables seamless integration with charging networks and management systems, offering flexibility and interoperability. Additionally, the integration of RS485 and External Smart Meter compatibility enables advanced monitoring and management of energy consumption.

Safety Features:

RCD Protection: The Type B (AC30mA + DC6mA) residual current protection offers a high level of safety during charging sessions, effectively minimizing the risk of electrical hazards.

Over Current and Over Temp. Protection: Experience peace of mind with our second-level over current and over-temperature protection, safeguarding your EV charger and vehicle from potential damage caused by excessive current or high temperatures. This ensures the longevity and reliability of your charging equipment.

Over Voltage and Under Voltage Auto. Recovery: Automatic recovery for over voltage and under voltage ensures stable and reliable charging, even in fluctuating power conditions.

Relay-sticking Protection: It proactively monitors the performance of the relay, ensuring smooth and uninterrupted charging operations.

Pen-Fault Protection: Our EV charger features pen-fault protection, further enhancing safety and preventing potential electrical faults.


SPECIFICATIONS 

Basic Information

Product Code:

HY070W2-T1

HY090W2-T1

 HY110W2-T1

Input Voltage:

AC100~240V

AC100~240V

AC100~240V

Rated Current:

8~32A

8~40A

8~48A

Rated Power:

7KW

9KW

11KW

Product Specification

Charging Type:

Level 2

Charging Plug:

SAE J1772(Type1)

Power Plug:

NEMA 14-50
Hardwire
NEMA 14-50
Hardwire

Hardwire

Charging Cable:

3X10AWG+18AWG

2X8AWG+10AWG+18AWG

2X8AWG+10AWG+18AWG

APP Control 

Start Charging and Stop Charging

View Historical Charging Record 

Select a Charging Schedule 

Set Charging Current 

User Interface 

LED Indicator ; Digital Display; 

Communication Interface 

OCPP 1.6J; Bluetooth; WI

-

FI; Ethernet; 4G; RFID Card 

Smart Support 

Dynamics Load Balance; OCPP Communication with the third-party platform

Working Environment

Working Temp.:

-22℉~122℉(-31℉ optional)

Humidity:

5~95% Non-Condensing

IP Rate:

IP 65

Work Altitude

: 

<2000m 

Material Performance

Shell:

Thermoplastic; Flame Retardant Grade UL94V-0

Charging Plug Pin:

Pure Copper Silver Plated

Charging Cable:

Halogen Free, Pure Copper Core with TPE Cable Jacket

Mechanical Life:

>10,000 Times

Electrical Protection

Over current protection; Residual current protection; Ground protection;

Surge protection;Over/Under voltage protection; Over / Under frequency protection;

Over temp protection; Leakage protection;

Dimension & Package 

Control Box Size

: 

L7.87''XW7.87''XH2.56''

Cable Length

:

15ft/Customized

Inner Box

:

L16.14''XW11.02''XH7.09''

Outer Carton

: 

L22.83''XW16.93''XH14.96''
Q1, Can I charge for Tesla ?
A1, Yes, you just need a Tesla Adaptor.
Q2, How long is the Charging Cable?
A2, The standard length is 5Meter, But you also can customize the length.
Q3, What is the IP rate for this Wallbox EV Charger?
A3, The IP rate is IP65.
Q4, Can you make customized EV Charger ?
A4, Yes, We are EV Charger Manufacturer located in shenzhen since 2019 and Our Strong R&D supports OEM ODM service.
Q5, What is your network options ?
A5, You can use Bluetooth for the local operation. And also you can use WI-FI, Ethernet, 4G to connect the net work.
Q6, Can I control the EV Charger through the Mobile APP ?
A6, Yes, You need download our APP from Apple store or Scan the QR code. If you want to develop your own brand APP, we also can customize it for you.
Q7, How about the delivery time?
A7, For samples, we normally can send within 3 days, and for quantity order, we normally can send with 2-3 weeks.
Q8, What Protocol do you use for your wall mounted EV Charger ?
A8, We use OCPP 1.6-J protocol and OCPP 2.0 is under developing which plan to launch in this October. .
Q9, How long are you aging for your Wallbox EV Chargers?
A9, All chargers will age more than 4 hours before shipping to make sure all products delivery to our customers will be working properly.
Q10, Which standard did you use for your Wallbox EV Charger?
A10, For EU Standard EV Charger, we are following the EN IEC 61851-1:2019, EN IEC 61851-21-2:2021, EN IEC 61000-6-1:2019 , EN IEC 61000-6-3:2019 .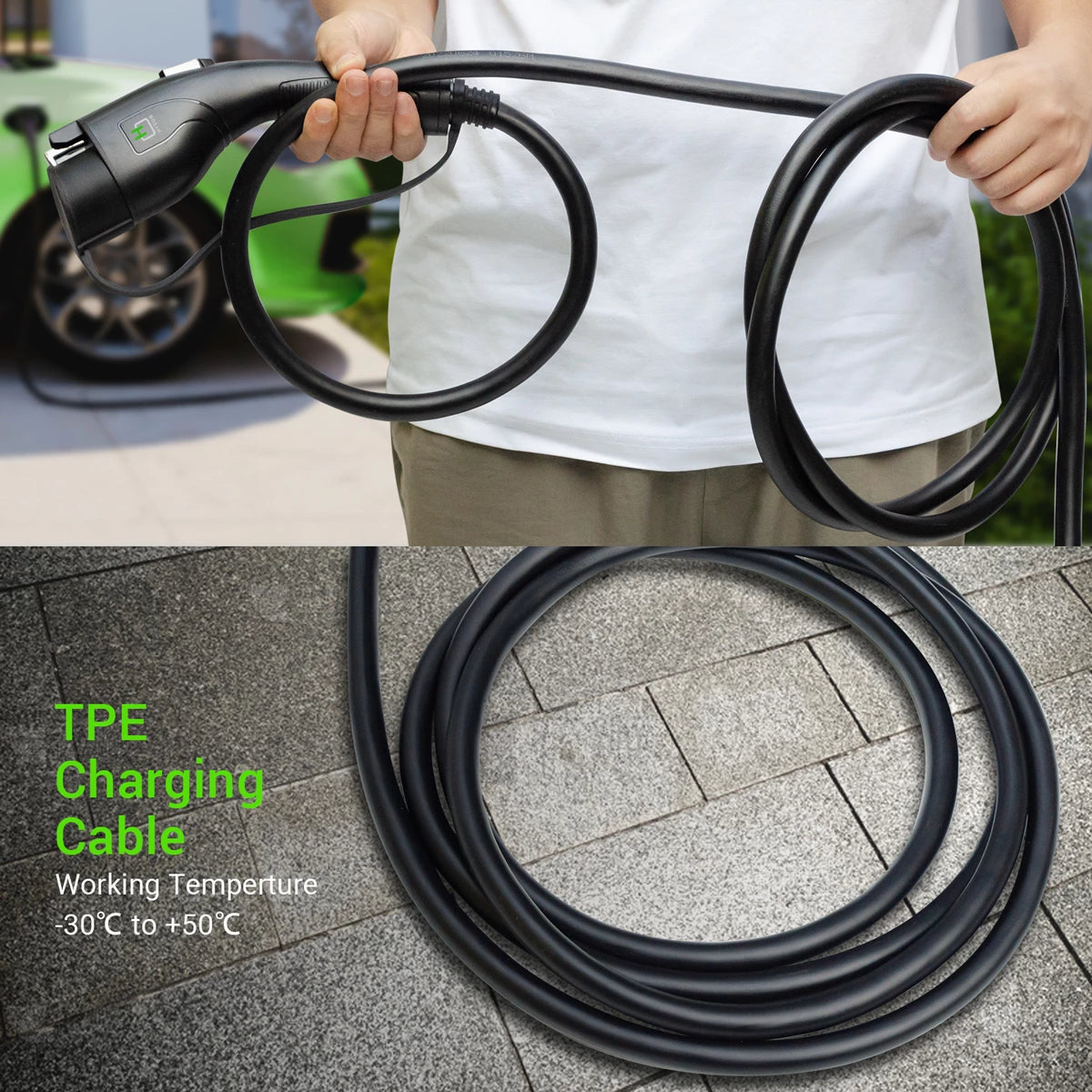 TPE Charging Cable
The halogen-free charging Cable is made of high-quality pure copper core with TPE Cable Jacket.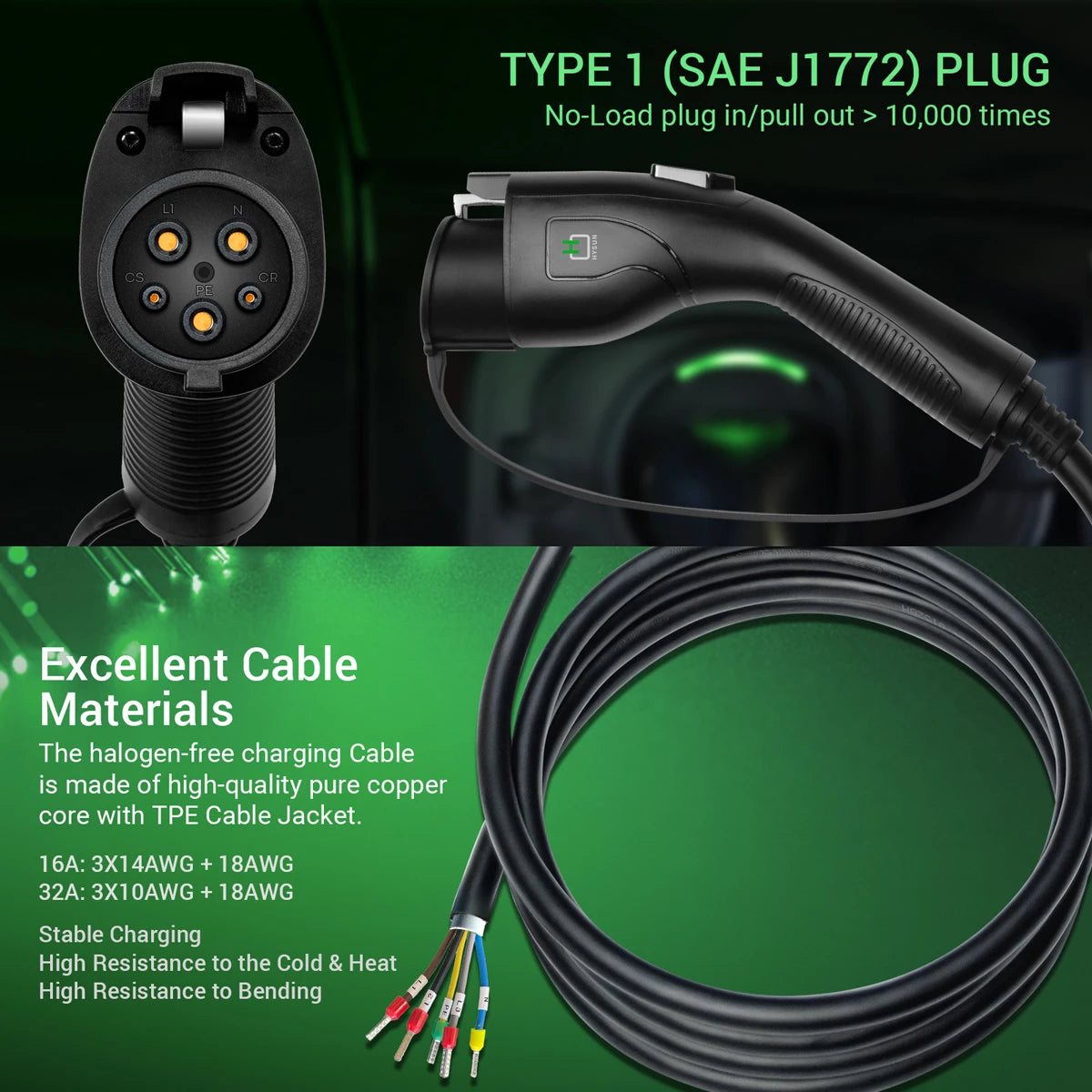 Excellent Cable Materials
Stable Charging;
High Resistance to the Cold & Heat;
High Resistance to Bending;
Waterproof Charger 
The Control box is IP 65 and SAE J1772 Type 1 Plug is IP54.
Unique Design
Special Self-Cleaning Design Ergonomic and Integrated Design
Better Conductivity Design