Hysun 7KW Wallbox EV home Chargers with SAE J1772 Connector
● Adjustable Current 8A/10A/13A/16A/32A
● 2.8'' LCD Display Charging Status
● Smart EV Charger with APP Control
● RFID Card included to prevent unauthorized use
● 3 Years Warranty
📢 Contact us for OEM and distributor pricing.
Compatible with All EVs: HYSUN Wallbox EV Charger is compatible to all SAE J1772 Standard Electric Vehicles and Tesla Models(Via SAE J1772 Charing Adapter). 240V Level 2 EV Charging is 7X faster than a 120V Level 1 regular outlet charger.
User-friendly Setting: Equipped with a large LCD Screen, Showing the Charging Status such as Charging power, Charging Current and Charging time. With adjustable current settings (8/10/13/16/32A), you can choose charge power whatever you want.
Smart EV Charger: Manage your charging easily, intelligently, and insightfully. The advanced HYSUN Charge mobile app allows you to track, manage, schedule, and optimize smart EV charging at anytime.
Efficient Communication: Wi-Fi, Bluetooth, and Ethernet connectivity options ensure seamless connectivity and communication with your mobile device. The optional start and stop RFID card functionality can prevent unauthorized use.
Flexible and Convenient Installation: For easy installation, HYSUN Level 2 home charger wallbox comes with a standard NEMA 14-50 supply power plug, compatible with the 240 volt outlets commonly found in households. Weatherproof enclosure allows for indoor or outdoor installation.
Reliability Quality: The Charging Station is rugged and robust, equipped with Over current protection; Ground protection; Surge protection; Over/Under voltage protection; Over temp protection; Leakage protection.
SPECIFICATIONS 

Basic Information

Product Code:

HY070W-T1

Input Voltage:

240V±10%

Rated Current:

Adjustable Current 8A/10A/13A/16A/32A

Rated Power:

7.0KW@240Vac (32A)

Product Specification

Charging Type:

Level 2

Charging Plug:

SAE J1772 (Type 1)

Power Plug:

NEMA 14-50; Hardwire; Customized

Charging Cable:

3 x 10AWG+18AWG (32A)

Working Environment

Working Temp.:

Minus 30 degree to 50Degree

Humidity:

0~95% Non-Condensing

IP Rate:

IP 54

Crushing Force:

No Damage Under 5000N

Material Performance

Shell:

Thermoplastic; Flame Retardant Grade UL94V-0

Charging Plug Pin:

Pure Copper Silver Plated

Charging Cable:

Halogen Free, Pure Copper Core with TPE Cable Jacket

Mechanical Life:

>10,000 Times

Wallbox EV Charger Dimension

Control Box Size:

L12.2" * W6.3" * H3.54"

Cable Length:

5Meter / 7.5Meter / Customized

Wallbox EV Charger Package

Inner Box:

L16.54" * W12.2" * H7.09"

Net Weight:

8.91lbs

Qty./Box:

1 piece

Outer Carton:

L17.32" * W13" * H15.35"

Gross Weight:

22lbs

Qty./Ctn:

2 piece

APP Control

View Historical Charging Record ;


Select a Charging Schedule;

Set Charging Current ;

User Interface

LED Indicator ; LCD Display Screen ;

Current Adjust Button ; Time Booking Button

Communication Interface

Bluetooth ; WI-FI ; Ethernet ; RFID Card
Q1, Will it Charge a Tesla Model 3?
A1, Yes, it will charge a Tesla Model 3, and you just need a Tesla Adaptor.
Q2, How long is the Charging Cable?
A2, The standard length is 5Meter, But you also can customize the length.
Q3, What is the IP rate for this Wallbox EV Charger?
A3, The IP rate is IP54.
Q4, Can the current be adjusted on the device itself with a button?
A4, Yes, you can adjust the current by pushing a button on the front cover or Mobile APP
Q5, How fast does it Charge?
A5, It depends on your vehicle battery capacity which is measured in the kilowatt-hours of energy it can hold. For example, It will takes around 7 hours to Charge Tesla Model 3 Standard Plus by HY70P-T1, but it will takes around 10 hours to Charge Tesla Model Y Performance by HY70P-T1.
Q6, Can I customize my brand on the product and package?
A6, Yes, We can laser your brand on the charger and control box and We also can customize your package. The mini order for this service is 100pcs.
Q7, How about the delivery time?
A7, For samples, we normally can send within 3 days, and for quantity order, we normally can send with 2-3 weeks.
Q8, Do you provide free sample to test?
A8, For the first sample order, Customer has to pay the sample and shipping cost. But We can refund the sample cost in future quantity order.
Q9, How long are you aging for your Wallbox EV Chargers?
A9, All chargers will age more than 4 hours before shipping to make sure all products delivery to our customers will be working properly.
Q10, What is your warranty terms?
A10, We provide 2 years warranty for our Wallbox EV Chargers. During the warranty period, we will provide technical support with quality analysis report and replace the new parts in free.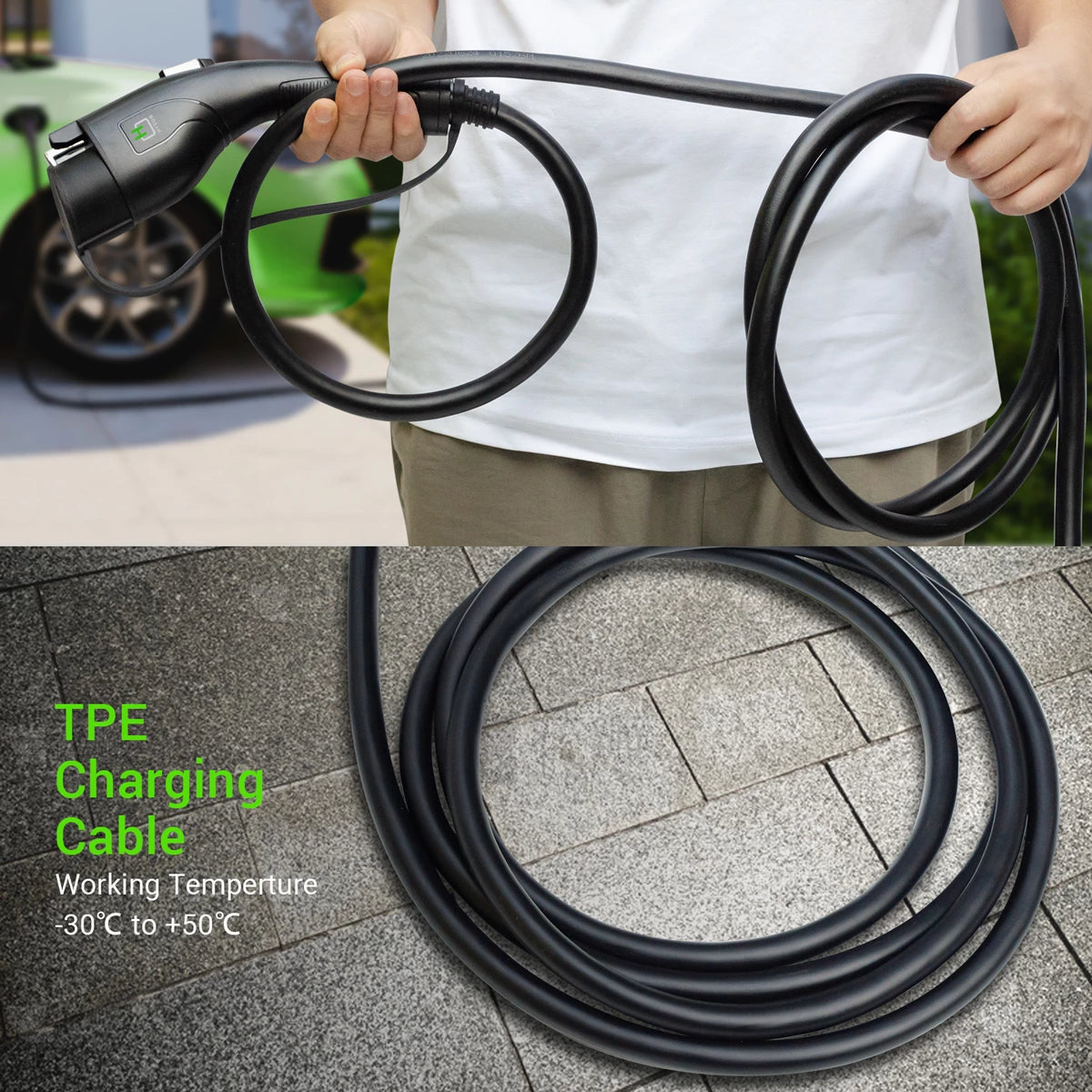 TPE Charging Cable
The halogen-free charging Cable is made of high-quality pure copper core with TPE Cable Jacket.
Excellent Cable Materials
Stable Charging;
High Resistance to the Cold & Heat;
High Resistance to Bending;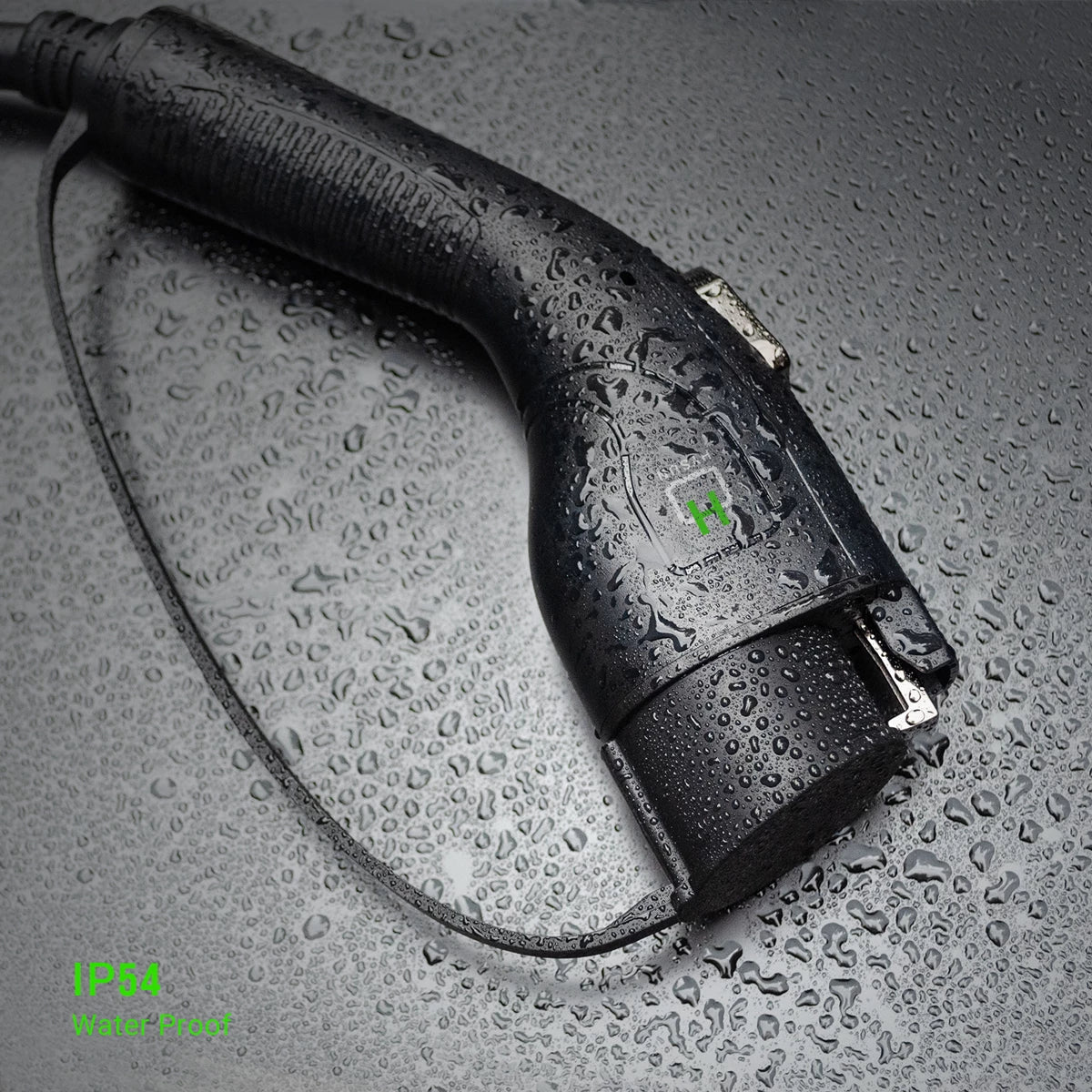 Waterproof Charger 
The Control box and SAE J1772 Type 1 Charger are both IP54.
Plug Option
Different NEMA Plug options meets customer different requirments.
Hardwired Cable is upon Request.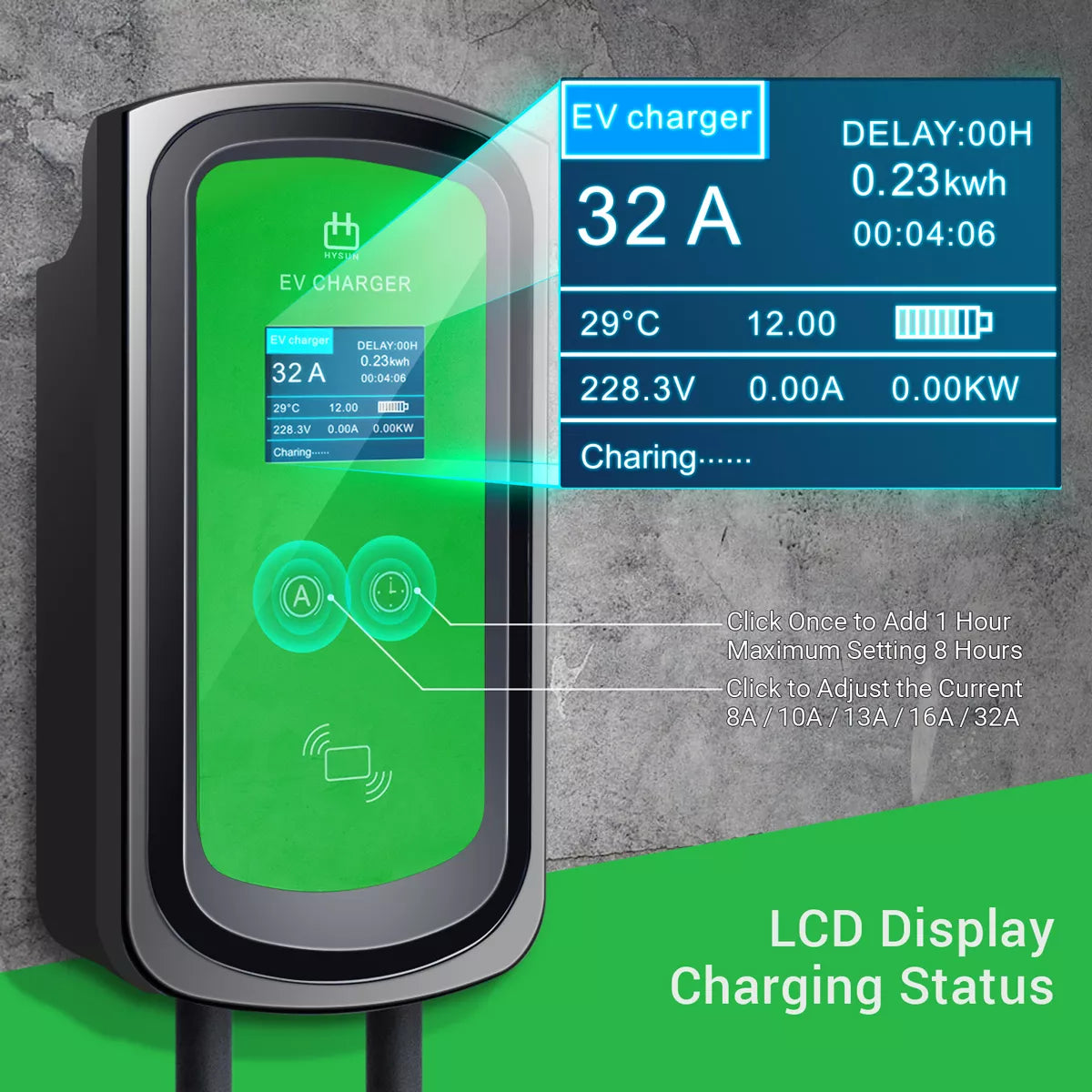 2.8'' LCD Color Screen Display
Charging Status are clarity display for fast examining.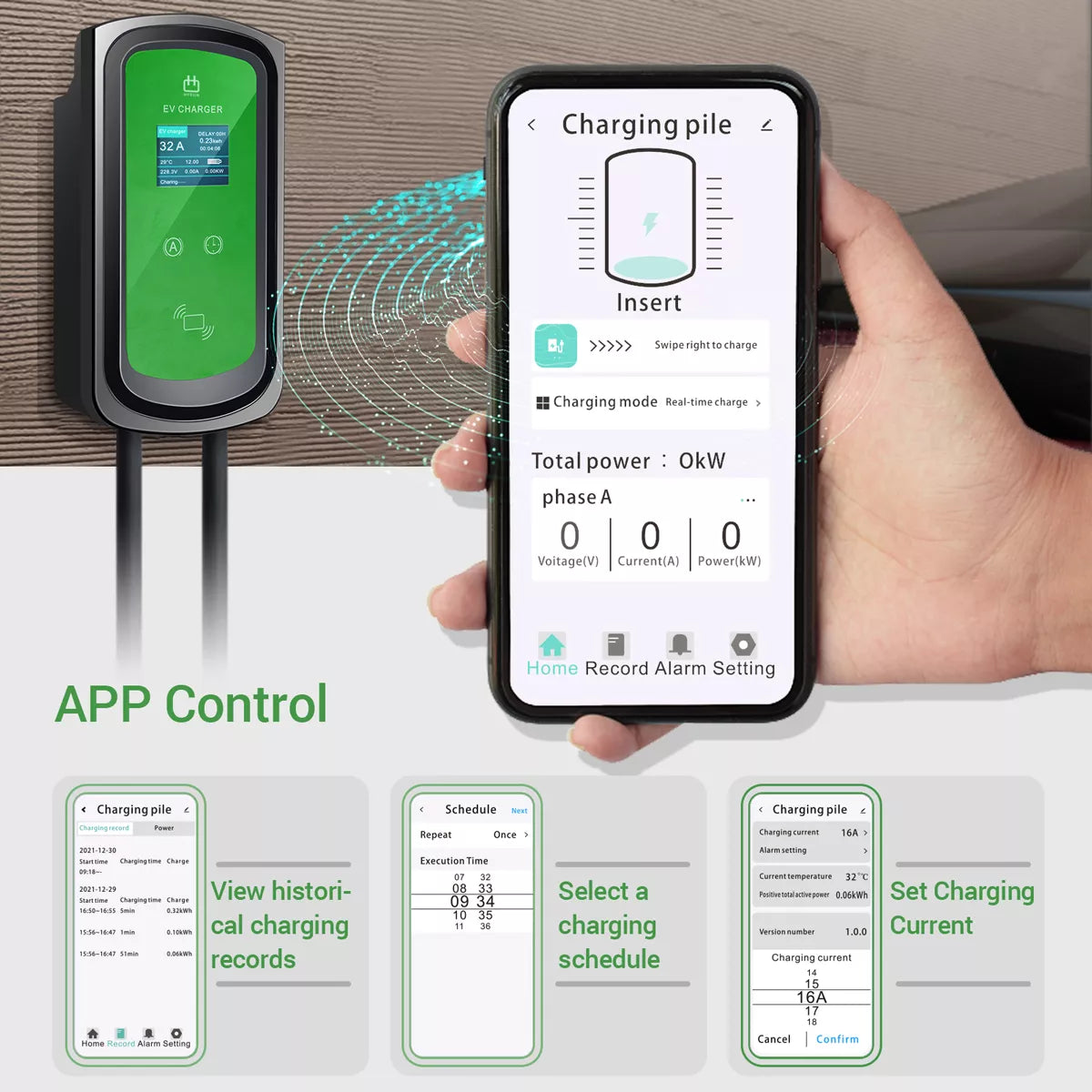 Mobile APP Control
View Charging Records; Select Charging Schedule; Set Charging Current;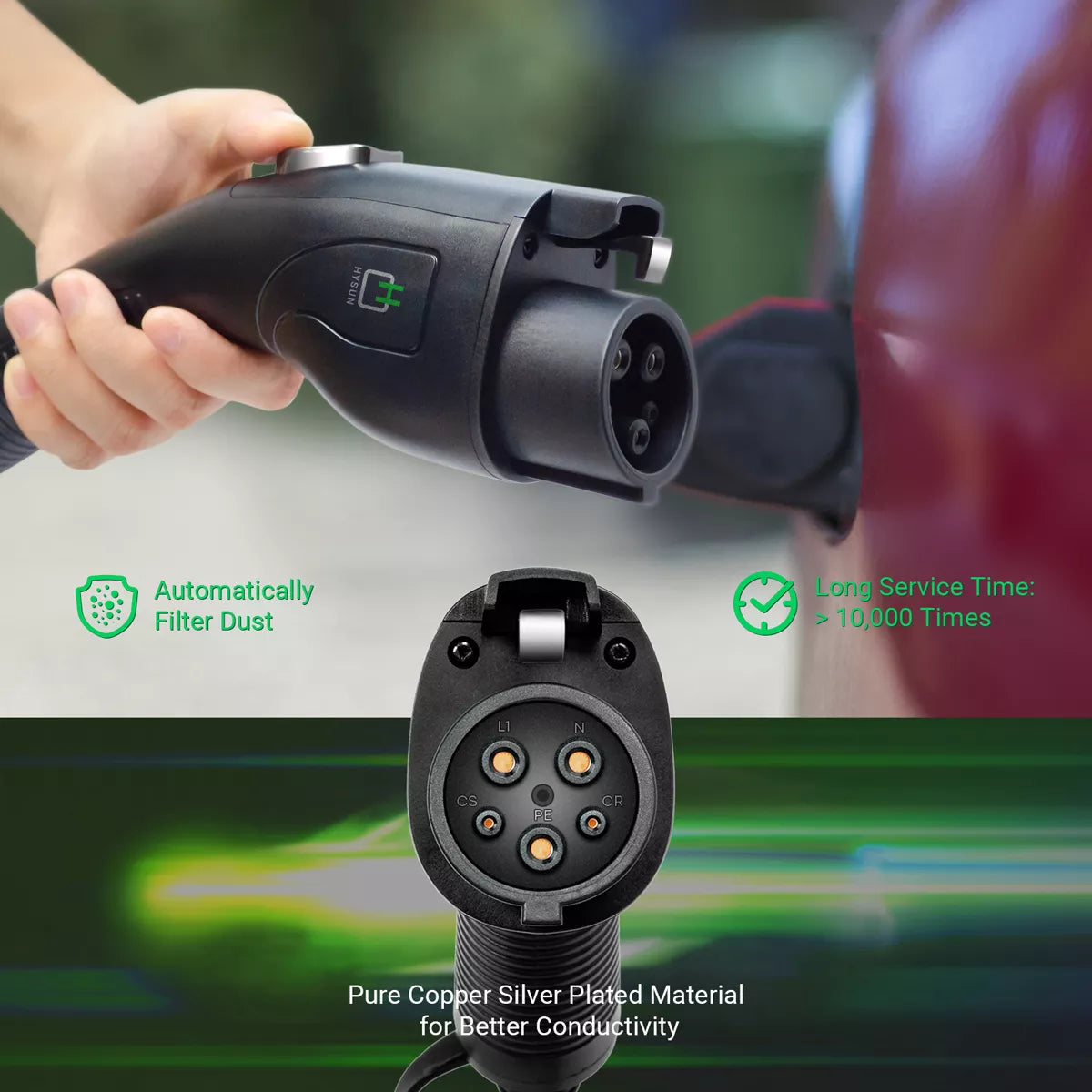 Unique Design
Special Self-Cleaning Design: The Impurities on the surface of the pins can be cleared during every plug-in process.
Ergonomic and Integrated Design: In line with the habit of manual force which allows for free plugging & unplugging.
Better Conductivity Design: Silver plating on the pins ensures greater conductivity, charging efficiency and reduces heat generation.
Safety Protection
Over current protection ; Residual current protection;
Ground protection ; Surge protection;
Over/Under voltage protection ;
Over/Under frequency protection;
Over temp protection;
Leakage protection Type A (AC 30mA)